Angular contact ball bearings can bear is the feature of radial and axial joint bearing, has higher bearing capacity than the general bearing, through multiple sets of single piece together or single set of double row bearing used in machine tools and other precision equipment meet the requirements of the high speed and high stiffness, are widely used in high speed, high precision operation occasion.

角接触球轴承配对形式有如下几种Angular contact ball bearing matching form has the following kinds

1.Back to back configuration:
Installed back to back, the bearing of the line of contact Angle along the rotation axis direction diffusion, affordable role axial load in both directions, strong resistance to deformation. Back-to-back installed bearings provide relatively high bearing configuration rigidity, and can withstand the overturning moment.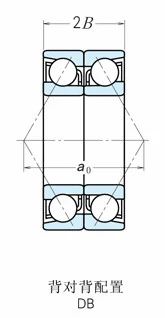 2.Face to face configuration
Face to face when installation, bearing contact Angle of the line in the direction of the rotary axis convergence, the load, which has less rigidity can increase of bearing preload.

3.Serial configuration
Series installation, bearing contact Angle of the line parallel to the radial and axial load evenly Shared by bearing, carry the same direction of work load. This kind of configuration is often can only carry axial load in single direction, therefore, in order to balance and limit the axial stability, two series of bearing in axial symmetry installed on both ends.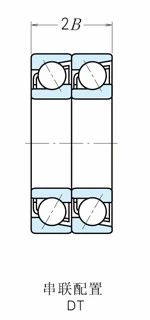 4.The joint configuration
Sanlian installed, you can carry two radial load and axial load. But the load bearing force distribution is not uniform, in the high speed rotates, likely to cause bearing were injured, so the joint configuration is not suitable for high speed spinning.

5.Quadruple configuration
Quadruple when installation, can bear radial load and axial load in both directions. Internal clearance under the same condition, the pre-tightening force and stiffness to piece together in pairs of 2 times, can withstand the limits of the axial load is relatively large.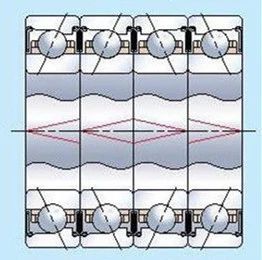 6. Universal configuration
Supporting universal group contact ball bearing is through grinding, the outer ring of base level strictly control the final grinding plane size tolerance, make the inner and outer ring width etc. Universal equipping method is precision machine tools don't need to be installed on complex adjustment process, need of pre-load can be got.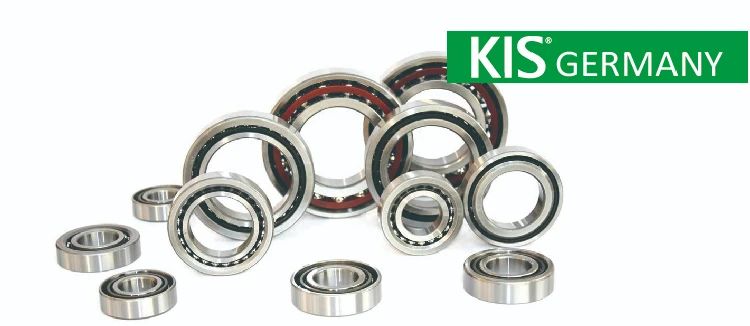 The installation of angular contact ball bearing is relatively complex, generally use the matching installation, and adopts the preload. If installed well, can make the host the working accuracy, performance and greatly improve the life. , of course, in addition to matching installation, the user can also choose to universal configuration bearing, according to different situations need to use a combination of concrete can be according to actual working condition of consulting our professional sales engineers for you selection matching.

KIS cora, angular contact ball bearing
Single row angular contact ball bearings
Double row angular contact ball bearings
Four-point contact ball bearing
Thin-walled angular contact ball bearings
Thin-walled four-point contact ball bearing
......